Welcome to R & R Quality Lawn Care
Thorough. Reliable. Friendly.
Working hard to be a different kind of lawn care service.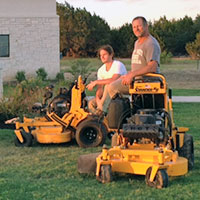 R & R Quality Lawn Care is the father-and-son team of Roger and Raleigh Weil.

We're family-owned and hands-on, which means you'll get consistent quality every time. There won't be a different crew every other week. And we not only have new equipment, but the right equipment for residential yards — leaving a compact footprint and allowing for a clean uniform cut.

We realize it's easy to say we're better or different. But we work very hard every day to make sure our clients are thoroughly pleased with our quality and follow-up.
If you're tired of lawn service companies that deliver poor quality, never call you back, have lousy communication skills, and are generally unprofessional and unreliable, please consider giving R & R Quality Lawn Care a try with no risk and zero commitment. If you're not completely wowed by our unique service, you can walk away without any pressure or hassle.

We offer these lawn care services:
Mowing Maintenance
Trimming-Trees & Shrubs
Leaf Removal
Mulch & Top Dressing
Planting Installation- Trees/Shrubs/Flowers
Sod Installation
Debris removal



For a refreshing lawn care experience, call Roger and Raleigh at 512-922-9655 today, or you can request a free no-hassle quote here.